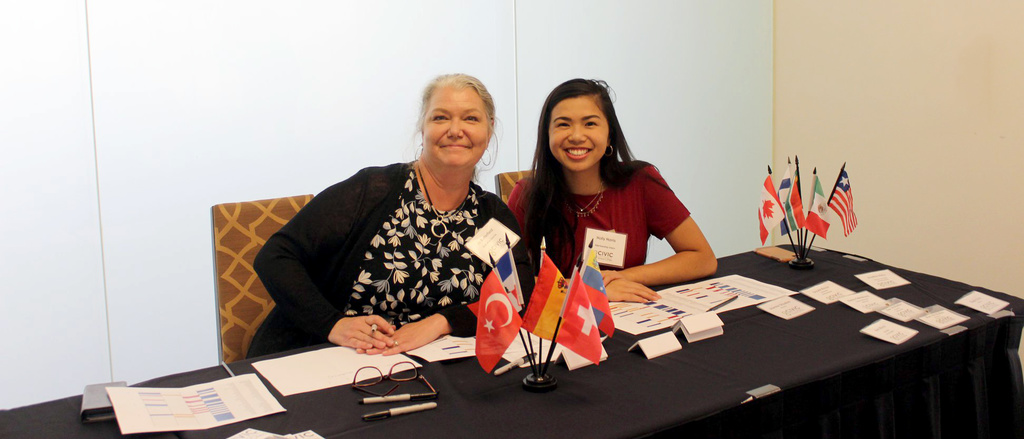 International Organizations in Iowa
There are many ways for IS students to do international work in Iowa City or in other communities within the state/region. Below are some Iowa organizations which are addressing global issues.  Students can explore individual websites for possible volunteer, internship, or career opportunities.
Iowa City/ Cedar Rapids Area
CARTHA (Iowa City)
https://www.cartha.org/index.php/programs/fellows
CARTHA (doer in Sanskrit) cultivates Collaborative Doers for Humanity ("Carthans") who bridge technological and social innovations to advance global good. The CARTHA Fellows program is designed to introduce younger faculty, professionals, and students into intergenerational, academic-practitioner networks of Collaborative Doers.
Catherine McCauley Center (Cedar Rapids)
https://cmc-cr.org/
Catherine McCauley Center's programs serve immigrants, refugees, and women experiencing crisis. Through the Adult Basic Education and Refugee & Immigrant Services Programs, the Center offers one-on-one tutoring and small group learning opportunities to adult learners, and provides refugees and immigrants with employment-readiness education and job-seeking support, as well as assistance navigating community resources like transportation, healthcare, and housing.
Center for Worker Justice of Eastern Iowa / Centro de Justicia Laboral del Este Iowa
https://www.cwjiowa.org/
CWJ is a coalition of community, labor and immigrant organizations which focuses on just workplaces, affordable housing and civil rights.
Community Health Initiative Haiti (Iowa City/ Haiti)
https://www.chihaiti.org/
Community Health Initiative works to address the needs of rural Haitians who otherwise have no access to healthcare.
Council for International Visitors to Iowa Cities (Iowa City)
https://iowacivic.org/
The Council for International Visitors to Iowa Cities (CIVIC) is a non-profit organization that hosts international visitors from around the globe. CIVIC fosters relationships between visitors and eastern Iowans by scheduling professional meetings, arranging home hospitality visits, and planning cultural excursions.
Friendship Community Project (Iowa City)
https://fcp-iowa.org/
A nonprofit dedicated to promoting a sense of community belonging and practical assistance to immigrants and refugees in the Iowa City area.  This non-profit offers assistance finding local resources and learning about the community, forming connections with community members, and learning English and life skills necessary for living in the U.S.
IC Compassion (Iowa City)
https://www.iccompassion.org/
IC Compassion is a nonprofit organization that engages culturally diverse communities together through hope, opportunities and partnerships. Services include immigration assistance and citizenship classes, ESL/computer tutoring, transportation and food assistance, and a free legal clinic.
International Programs - University of Iowa (Iowa City)
https://international.uiowa.edu/connect/students
At the University of Iowa, International Programs functions as a catalyst for internationalization and a hub for international activities.
International Writing Program - University of Iowa (Iowa City)
https://iwp.uiowa.edu/
The University of Iowa's International Writing Program (IWP) hosts renowned international writers, offers classes and lecture series, publishes a web-based literary journal, and conducts cultural exchanges in conjunction with the U.S. State Department.
Iowa City Foreign Relations Council (Iowa City)
https://icfrc.org/
The Iowa City Foreign Relations Council (ICFRC) seeks to promote understanding of international issues by hosting community forums with expert speakers from around the world with topics on U.S. foreign policy, international affairs and global issues.
Iowa Nonprofit Resource Center (University of Iowa)
https://inrc.law.uiowa.edu/
The Larned A. Waterman Iowa Nonprofit Resource Center is a University of Iowa interdisciplinary collaboration to make more accessible educational and service programs focused on strengthening the operational capacity of Iowa nonprofit organizations. Many of the organizations in the directory provide excellent career, volunteer, and intern opportunities.
Iowa United Nations Association (Iowa City)
https://www.iowauna.org/
The Iowa United Nations Association is an advocate for the United Nations and a platform for connecting people, ideas, and resources to help the UN solve global problems.
We build partnerships, grow constituencies, mobilize resources, and advocate policy changes to support the UN's work for individual, local, and global progress.
CSPS Hall (Cedar Rapids)
http://cspshall.org/
CSPS is an award-winning, Cedar Rapids nonprofit dedicated to the creation, presentation, understanding and impact of contemporary art. CSPS presents cutting edge art, music theatre, film, and other events.
Monsoon Asians & Pacific Islanders in Solidarity (Iowa City and Des Moines)
https://monsooniowa.org
Monsoon Asians & Pacific Islanders in Solidarity serves victims/survivors of domestic violence, sexual assault and human trafficking in Asian and Pacific Islander (API) communities in Iowa. Monsoon's mission is to end all forms of gender-based violence and build healthy communities through transformative justice and social change.
Nisaa African Family Services (Des Moines and Iowa City)
https://nisaa-afs.org/what-can-you-do/volunteer-opportunities/
Nisaa is a non-profit that aims to end domestic violence and sexual assault in African immigrant and refugee communities by promoting social, economic, and political self-determination of all women.
OmniLingua Worldwide (Cedar Rapids)
https://www.omnilingua.com
OmniLingua Worldwide is a data-driven, process-oriented professional translation and localization services company.
Proteus, Inc. (Des Moines, Fort Dodge, Iowa City)
https://www.proteusinc.net/
Proteus, Inc. provides farmworkers, immigrants, and others with a variety of services that improve their health, education, and economic opportunities. Proteus serves Iowa's immigrants, minority and  low-income populations to make their dream of a brighter tomorrow a reality by helping them overcome language and cultural barriers in order to better provide for their families.
Refugee and Immigrant Association (serving Johnson and Linn counties)
https://refugeeimmigrant.org/
Provides various kinds of support to help immigrants become integrated into our local communities.
Collins Aerospace  (Cedar Rapids)
https://jobs.collinsaerospace.com/
Collins Aerospace, a global company, has internship and entry-level career opportunities in technical and non-technical fields.
Rotary District 6000 (Iowa City; Des Moines; Davenport; & others)
https://www.rotary6000.org/
District 6000 is a chapter of Rotary International. Rotary brings together leaders from all cultures and occupations who want to use their district expertise to give back to their communities and create lasting change in communities around the world. College-aged students and recent graduates are encouraged to join and volunteer with their local Rotaract chapter (Iowa City Rotaract club) and/or get involved in District 6000's Xicotepec Project.
Located in Other Iowa Locations
Center for Citizen Diplomacy (Des Moines)
https://www.centerforcitizendiplomacy.org/
The Center for Citizen Diplomacy unites a movement toward purposeful global engagement by providing a collective voice, platforms, and tools for organizations that offer opportunities for individuals to be exemplary citizen diplomats.
CultureALL (Des Moines)
https://www.cultureall.org/
CultureALL is a non-profit organization that involves Iowans in learning about other world cultures in the classroom and in the community.
Ethnic Minorities of Burma Advocacy and Resource Center (EMBARC) (Des Moines, Waterloo, Marshalltown)
https://www.embarciowa.org/
EMBARC is a community driven, grass roots coalition organization by and for refugees from Burma. As the collective voice of different ethnic groups from Burma, EMBARC strives to address shared issues, and work together towards common goals to uplift all communities through advocacy, education, and community development.
Iowa Department of Human Resources - Bureau of Refugee Services (Des Moines)
https://dhs.iowa.gov/refugee-services/volunteer
The Bureau of Refugee Services empowers all refugees to meet their goals as they enrich Iowa. There are opportunities to help refugees with language (ESL Helper) and transportation (Metro Bus System Helper).
Iowa International Center (Des Moines)
https://iowainternationalcenter.org/
IIC's mission is to build cultural respect at home and abroad one person at a time. Major program work includes student leadership programs, international visitor leadership program, international fellows program, translation services, hosting international visitors, the Kosovo Project (with the US State Department), and many others.
Iowa Interpreters and Translators Association, Inc. (IITA Inc.) (Des Moines)
https://iitanet.org/
As a non-profit organization and Iowa's premiere association of professional translators and interpreters, IITA serves Iowa's linguistically diverse community through education, training, and the promotion of translation and interpretation professions in Iowa.
Iowa Resource for International Service (Ames)
https://www.iris-center.org/
Non-profit, non-religious organization dedicated to promoting international education, development, and peace through rural initiatives. IRIS brings international visitors to Iowa and facilitates international relationships and travel opportunities for Iowans.
Office of Asian and Pacific Islander Affairs (Des Moines)
https://humanrights.iowa.gov/cas/capi
The Office of Asian and Pacific Islander Affairs, in the Department of Human Rights,  supports the commission's efforts and works with other state agencies and private organizations to address the needs of Iowans of Asian and Pacific Islander heritage in participating fully in the economic, social, and cultural life of the state.
The U.S. Committee for Refugees and Immigrants (Des Moines)
https://refugees.org/uscri-des-moines/
USCRI Des Moines helps refugees successfully adapt to life in the United States.  USCRI Des Moines focuses on meeting the immediate basic needs of new arrivals, assisting refugees in obtaining early employment and achieving self-sufficiency, and nurturing community integration for new Americans.
World Food Prize Foundation (Des Moines)
https://www.worldfoodprize.org/
The World Food Prize Foundation emphasizes the importance of a nutritious and sustainable food supply for all people. By honoring those who have worked successfully toward this goal, The Prize calls attention to what has been done to improve global food security and to what can be accomplished in the future.
The Stanley Foundation (Muscatine)
https://www.stanleyfoundation.org
A nonpartisan, private operating foundation focuses primarily on peace and security issues and promoting principled multilateralism. The Stanley Foundation conducts programming which focuses on various areas of foreign policy, including the United Nations and global institutions, US and Asian security, US and Middle East security, and nonproliferation and arms control.
Mid-Iowa Community Action, Inc. (MICA) (Marshalltown)
https://www.micaonline.org/
MICA serves children and families in central Iowa, offering programs that mitigate the effects of poverty, including Head Start, Women, Infants, and Children (WIC), Maternal and Child Health, and Family Development.  Volunteer and job positions focus on public health and community development.
Iowa Department of Economic Development (Statewide)
https://www.iowaeda.com/
Working to strengthen Iowa's presence in the international marketplace.