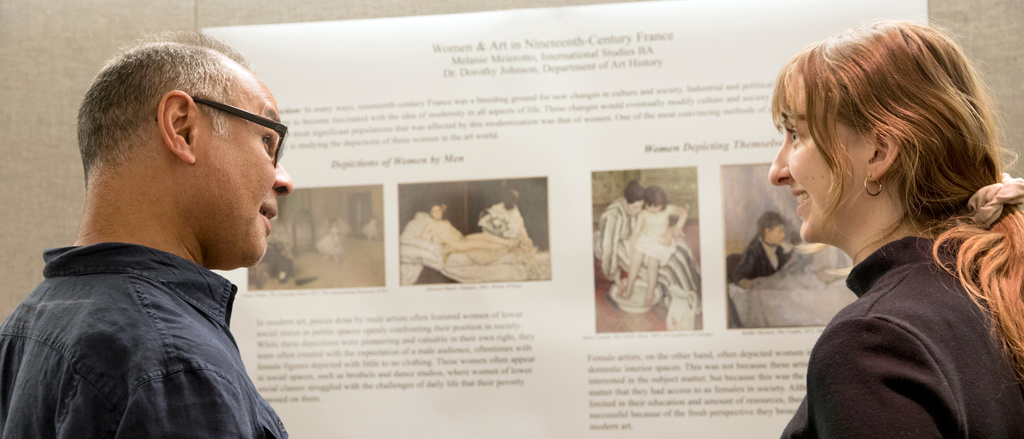 Research and Creative Work
International Studies undergraduate students engage in research topics related to their specific interests in global topics and issues. Student research is mentored by faculty in International Studies and faculty with global interests in a range of academic disciplines. Students may receive credit for their research through enrolling in one of the following: honors thesis, senior project, or independent study in International Studies.
Recent Student Research News
IS Student Lauren Salloum awarded ICRU Fellowship to work with Dr. Žmolek
IS Senior Lexy Winecke Presents Her Honors Thesis at ESURF
Fall 2021 Honors Thesis
An Analysis of Community Communication: A Case of Sehgal Foundation during COVID-19
Student: Yechan Charles Lee
Mentor:  Sujatha Sosale, Associate Professor of Journalism and Mass Communication
Spring 2022 Honors Theses
Women's Resilience and State Reconstruction in the Democratic Republic of Congo
Student: Abigail Jordahl
Mentor: Michael Zmolek, Lecturer in International Studies
Analysis of the Intergenerational Cultural Perceptions of Well-Being between Vietnamese Refugee Migrants and Children of Vietnamese Refugee Migrants
Student: Michelle Tran-Doung
Mentor: Cynthia Chou, Professor in Anthropology
Past honors theses and senior projects can be found here.
Recent Faculty Research and Professional Engagement
International Studies Advisory Board Member Yasmine Ramadan interviewed: "A Revolution against Realism: A Talk with Yasmine Ramadan"
IS Professor Ari Ariel elected to the Board of Directors of the the Association for Jewish Studies
Research and Creative Production in the College of Liberal Arts and Sciences
As part of a top-tier, AAU-accredited public research university, the College of Liberal Arts and Sciences holds scholarly, scientific, and artistic discovery at the heart of our mission.
Throughout our departments and programs, our professors are at the forefront of their disciplines. They bring their world-class research and artistry into their classrooms, studios, and labs, giving students the unparalleled opportunity to learn right from the source of the latest innovations in knowledge and practice.
Graduate students and many undergraduates work side-by-side with faculty members, conducting breakthrough research and creative production that advances humanity's understanding of ourselves and the complex, ever-changing world in which we live.
The creation of knowledge and understanding is an exhilarating and never-ending mission—and is at the core of every University of Iowa liberal arts and sciences education.